The Rainbow Trading Post is pleased to offer custom all-leather holsters produced locally. We currently have holsters that fit more than 100 models of guns, including Glocks, 1911s and the NAA .22 Mag. Designs include OWB, IWB and Pocket styles. We regularly add designs to fit other model pistols.
Patriotic
American flag design on leather for a variety of models. Sample shown available for $80.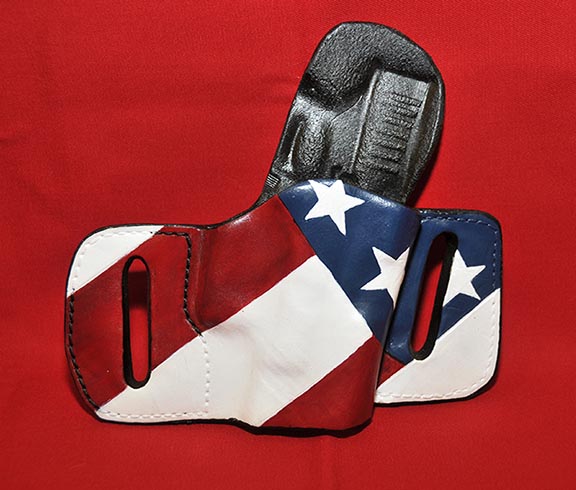 Patriotic
Design available for a variety of models, including Glocks. Price as shown: $80. (Pistol sold separately.)
Criss-Cross
Crisscross pattern on leather: $60 as shown for Glock. Other models available.
Natural
Natural tanned leather, $50 as shown for 1911. Available for other models.
Pocket Models
Pocket holster with brown finish for NAA .22 Mag as shown: $40. Other finishes available.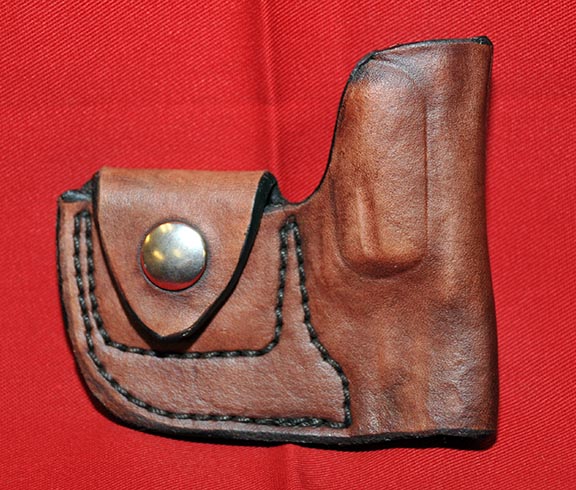 Pocket Models
Mahogany finished pocket holster for NAA .22 Mag available for $40. (Pistol sold separately.
Snakeskin
Snakeskin finish on leather. $65 as pictured for Glock. Available for other models.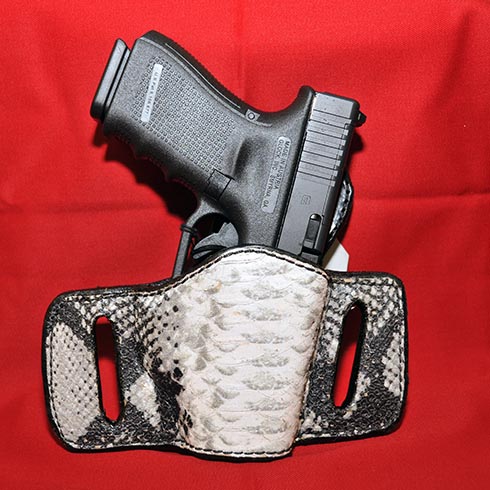 IWB
Mahogany finish with belt loop for 1911 models as pictured, $65. Other finishes for variety of models available.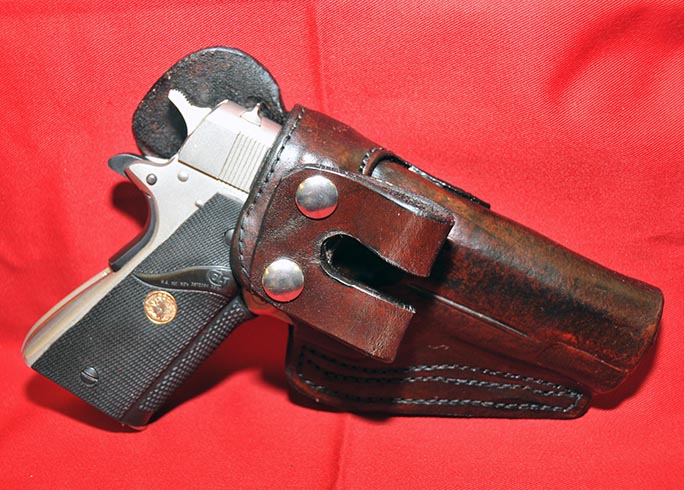 The holsters are available lined or unlined. Finishes are mahogany, black, brown or natural, as well as American flag, snakeskin and crisscross designs. Other finishes and tooling are also available. Current turnaround for custom orders is 3 to 5 weeks. Call or email for details and availability.
In addition to our custom holsters, we also carry holsters, cases and stocks by Hogue, Fobus, Uncle Mike's, Allen's, Butler Creek and Safari Land.